The work is up. The scene is set. Six months in the making for a one night event.
In December 2017 I was asked by a gallery to show at Art Basel in Basel Switzerland (June 2018). Because it is imperative to me that my work speak to its environment, my brain went into overdrive to come up with the perfect concept for the biggest art fair in the world.
Imagining millionaires walking past my work evaluating it as an investment, my solution was to create an installation of paintings and functional sculptures caricaturing our culture's captivation with wealth and status. The vision of a cartoon gold nugget on a tiny shelf swimming in negative space became my jumping-off point.
I didn't want to just put paintings on a wall. I wanted to create a world with which the viewer could interact. It would feel like an expensive beautiful home with a twist. I found furniture maker Mark Roe (of The Furniture Shop) to help me create a chair with exaggerated proportions. A functional piece of art that exuded power but felt as though it belonged in a cartoon. I painted the legs a shiny graphic gold.
I worked with Ashley Pfannenstiel from Wilson Creek Pottery to help me create a functional pot I could put flowers in. I gave her a snapshot of a scene from DuckTales as a reference. She made "The Cracked Pot Trophy" come to life. It received my cartoon gold treatment as well.
Then in May I received a call from the gallery. The co-owner was ill and had been in and out of the hospital. They needed to pull out of the show. I was fairly devastated. It took me a few days to regroup, but with the concept completely fleshed out and the work nearly finished, I had to figure out a new place to show.
With the help of quite a few friends, I transformed my studio into a gallery space fit for the work. It needed a beautifully trimmed set of walls and quite a bit of paint. But I was excited to present a new body of work to Chicago.
The outside of the studio needed painting as well. We took it from beige and grey to a white canvas I could do a street piece on "Elevating the Arts":
The change in venue from Art Basel to my studio in Chicago warranted a second look at the context. I decided to add balloons to the installation to give it more warmth and make it lighter (pun intended). I sought out the expertise of Dana Fisher at Flax Art and Frame to help make my balloon prints float, and conceal my hidden safes behind paintings that looked like wall panels.
I've become obsessed with creating paintings as objects or spaces that play with your perceptions and blur the line between reality and imagination. The whole show is setting up the world I'll be playing within over the next few years. Symbols that guide you toward a narrative, objects that make you smile or surprise you.

The show included over 20 original paintings, functional sculptures and 2 limited edition prints. I hope all my time and effort engaged those that took the time to see it.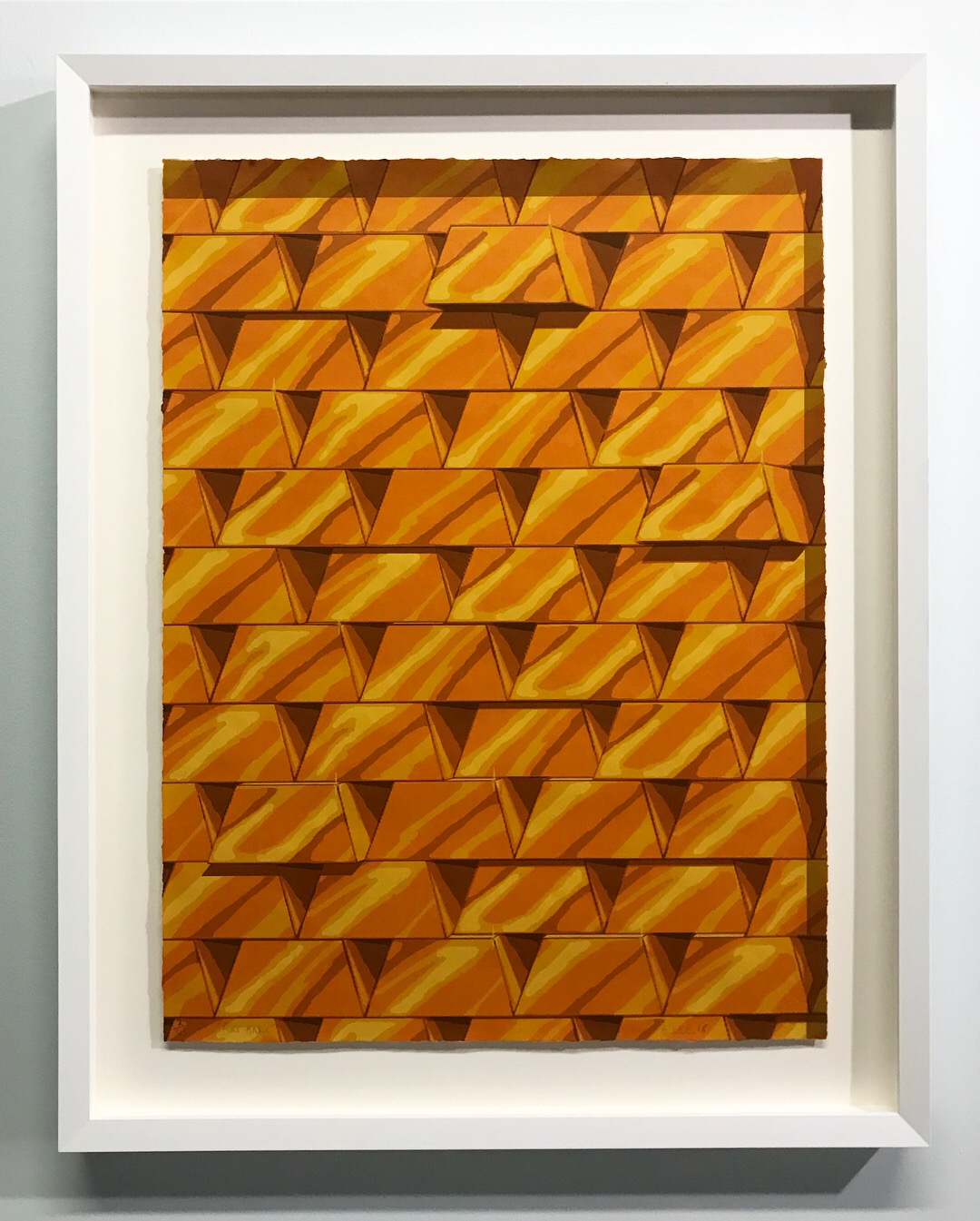 "According to James Joyce, epiphanies have to do with the aesthetic experience.
It does not move you to want to possess it (this is pornography).
It does not move you to judge or reject it (this is social criticism).
It is beholding an object, putting a frame around it and seeing it as one thing. To see how the part speaks to the whole and to the other parts. This is the essential aesthetic factor: rhythm.
When a fortunate rhythm has been struck by the artist there is a radiance. In this radiance one can feel transcendence. "

Above is an excerpt from a Joseph Campbell interview. My only hope is that the viewer can feel a bit of rhythm in my work and in this show.
Cheers :)
E.LEE
For a price list of available work, or to see the show in person e-mail sericlee10@gmail.com